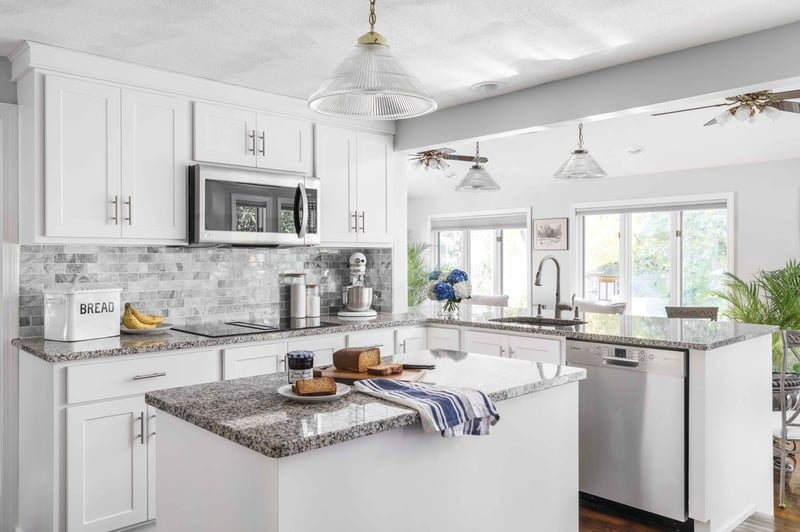 Photo Credit: Andy Ryan Photographer, 2019
A good lighting plan can transform your kitchen into a culinary masterpiece. After all, the kitchen is the heart and hub of the home. The right illumination will add style and assist you with a myriad of kitchen tasks, from food preparation to dining, entertainment, family time, office, and schoolwork.
The basics of kitchen lighting mix ambient, task, and accent lighting. Each layer of light helps eliminate glare and shadows while setting the tone and style you wish to achieve.
Whether planning a complete kitchen remodel or you are looking for a few upgrades, achieving a modern, functional lighting plan will result in a welcoming, stylish environment for all. At Kitchen Magic, our design specialists are trained to help you plan the best options in kitchen design, including lighting.
Ambient Lighting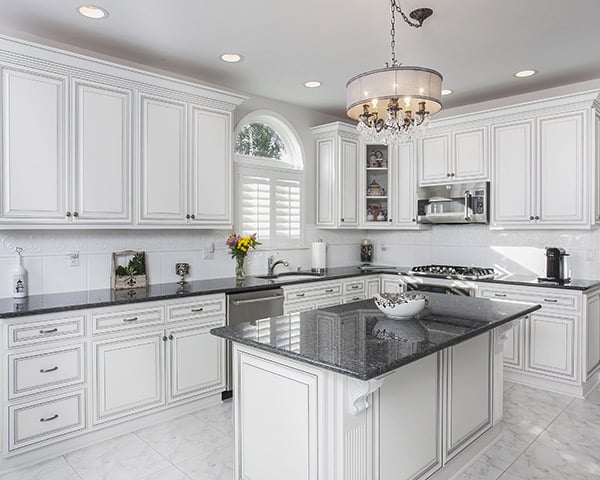 The term of light refers to general or basic overall lighting. It is the foundation of lighting a room well and comprises most illumination in an interior space. Proper ambient lighting radiates the correct brightness to safely move about and see.
During the day, ambient light is derived from incoming natural light and lighting fixtures as needed. Seasonal changes, time of day, and weather may affect this form of light. After sundown, the need for additional ambient light increases. Adding dimmers will help adjust light levels and energy output.
Whether your style preference is traditional, transitional or contemporary, ambient lighting relies on a blend of ceiling-mounted fixtures, recessed lighting and hanging fixtures for decorative effects. A chandelier offers additional illumination and speaks elegance and sophistication. For modern looks, a host of contemporary fixtures offer variations or clusters of ambient light. Overall, the sky's the limit. In summary, ambient lighting defines the sense of warmth and depth of a room by achieving a balance. It is essential to good kitchen design.
Task Lighting
Task lighting provides illumination to specific workspaces and can be accomplished via a multitude of stylish fixtures. This lighting directs light toward a task area where close-up work is performed. Task lighting is often required over the stove, the oven, the kitchen island, sink, clean up and prep areas, and countertops. Additional task lighting is also welcome in areas of the kitchen where digital devices may also be used.
Task lights are available in an endless variety of shapes, sizes, styles, and colors. Pendant lighting, drop-down linear, suspension, and cable lighting all offer functional lighting as well as merge into accent lighting categories. The array of new track lighting breathes new life into to the category. For entertaining, task lights play well with accent lighting to evoke interest and help set the mood. No doubt these lights will gear up your overall design, function, and feel of your kitchen.
Accent Lighting
Lighting is an art. Accent lighting brings depth and dimension to a room and is the tour de force of a well-designed kitchen. Consider adding under-or-over cabinet lights, drawer or inside cabinets lights, wall mounted lights, toe kicks, or mini track lights to accentuate your favorite details.
Accent lighting adds focus and drama for when used to illuminate such details as a designer stove with artisan hood, a mosaic tile, or a cappuccino, or wine bar. Or, accent lights may highlight a favorite piece of artwork or kitchen island with the touch of a toe kick light on a dimmer switch. Accent lighting may cross over into ambient or task lighting.
At Kitchen Magic, our design consultants can suggest the best lighting options to create the style and mood you wish to achieve in your dream kitchen. Light on! So, why not see what Kitchen Magic can do for you? Schedule your free design consultation, including a personalized quote for your project, today!
Let's block ads! (Why?)
Powered by WPeMatico