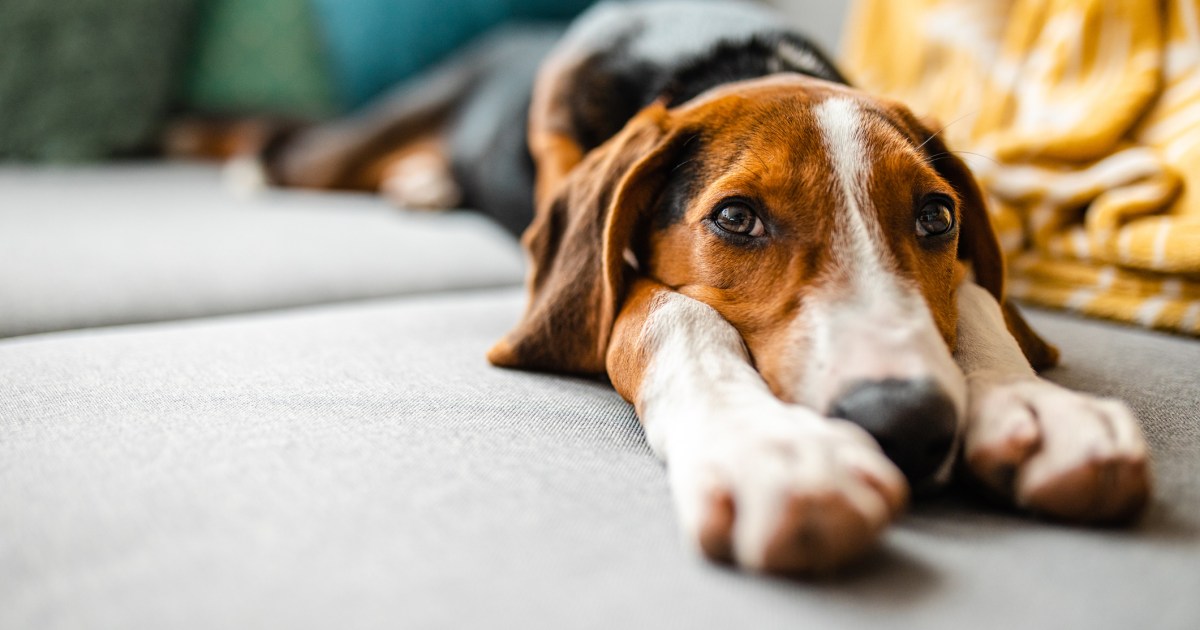 As smoke from Canadian wildfires threatens the quality of the air in more than a dozen U.S. states, authorities have advised residents of large areas of the Northeast and Midwest to remain inside. To avoid the harmful effects of wildfire smoke, minimize the amount of time you and your pet spend outside and keep a close eye on your dog for any signs of smoke inhalation or other related medical complications.
How wildfire smoke affects dogs
Particularly for people with underlying disorders, inhaling wildfire smoke can cause a number of health concerns. In animals, the effects of poor air quality due to smoke can be similar. In pets and humans alike, this can range from coughing and wheezing to more serious cardiovascular and respiratory difficulties. Harmful reactions from wildfire smoke inhalation can require veterinary attention.
Olivia Sanderfoot, a postdoctoral fellow at the La Kretz Center for California Conservation Science at the University of California, Los Angeles, says wildfires pose risks to wildlife as well as humans. Unfortunately, non-domesticated animals do not frequently have the privilege of choosing to stay indoors to avoid smoke.
"We need to keep our attention focused on how smoke is impacting our communities and wildlife even when we have blue skies," Sanderfoot told Time Magazine. "The work that needs to be done to mitigate these events, and reduce risks when they happen, cannot be done just during the crisis."
Indoor pets, including cats, dogs, and birds, also face a similar risk of the harmful effects of wildfire smoke. Brachycephalic breeds including Bulldogs (French and English), Boxers, Boston Terriers, Pekingese, and Pugs, to name a few, face an additional risk due to the shape of their airway passages.
Signs of wildfire smoke irritation in dogs
According to the American Veterinarian Medical Association (AMVA), smoke poses a particular risk to dogs with cardiovascular or respiratory conditions. Dogs with pre-existing conditions should always be monitored when the air quality is hazardous.
The following are indications your dog may be irritated by wildfire smoke or dust. Please call your veterinarian if your dog exhibits any of these symptoms.
Gagging or coughing
Respiratory difficulties, including open-mouth breathing and increased breathing noise
Excessive watering and inflammation of the eyes
Mouth or throat irritation
Nasal dripping
Asthma-like symptoms
An increased pace of breathing
Weakness or weariness
Confusion or stumbling
Reduced thirst or appetite
Additional ways to protect your dog from wildfire smoke
If you notice your dog pawing at their eyes, this can be a sign of discomfort. You can moisten a cotton ball with lukewarm water and squeeze it over your pup's eyes to help flush them out. Officials advise keeping windows closed when indoors and keeping dogs in a room with an air purifier, such as one with a HEPA filter.
Only allow your pet outside for brief bathroom breaks. Although your dog may feel cooped up, you can keep your pup occupied with indoor playtime. You can consider playing fetch in a hallway, occupying your dog with puzzle toys, or using this time to teach your dog a few new tricks.
Keep your pup hydrated at all times. This helps airway passages stay moist and can flush out any irritants that may cause respiratory reactions.
Consult with your veterinarian
As you limit exposure, continue to keep an eye on your dog. If you notice any signs or symptoms of smoke inhalation, contact your veterinarian immediately.
It is always advisable to have a plan in case of a wildfire. You can learn about more ways to be prepared and create an evacuation for you and your pup by checking out this guide.
Adblock test (Why?)
Powered by WPeMatico