Kitchen color schemes are the key to an aesthetic and functional space. The right color scheme makes a tiny kitchen appear bigger, boosting its visual appeal and increasing its resale value.
1. White + White
An all-white kitchen exudes an elegance that never goes out of style. The simplicity and purity of all white surfaces and cabinets create a clean, classic look.
The silver accents also add to the kitchen's pristine theme. Designer Davide Giannella adds modernity to the all-white scheme using marble effects and geometric tiles.
White reflects light, making your kitchen feel brighter and more spacious. If you're a minimalist, you'll appreciate the clean and clutter-free look an all-white kitchen provides.
2. Red + White
The boldness of red against the crispness of white makes for a classic and timeless contrast. Red draws attention, and designers use it to highlight specific areas in the kitchen, like islands or cabinets.
Chrissy Szaszfai Racho captures the stark contrast between the white cabinetry and red countertops.
3. Green + White + Gold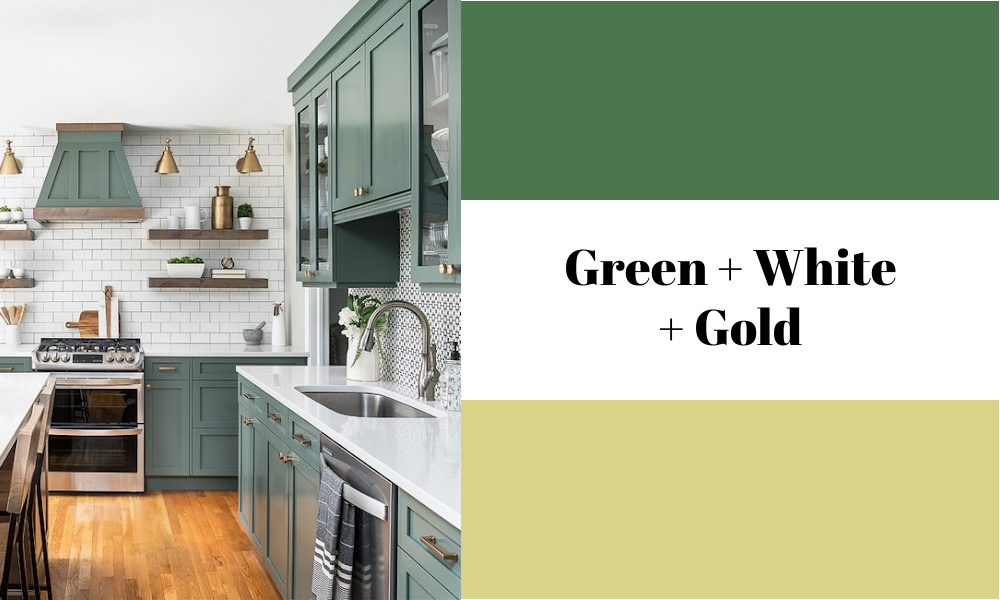 A green, white, and gold theme balances tranquility and opulence. Green adds depth and richness to the space. Pairing green cabinets with white countertops creates a bright contrast.
Chad Esslilnger uses gold accents for a touch of luxury. You can introduce gold through cabinet hardware, faucets, light fixtures, and small decor items.
4. White + Brown
White offers a clean and fresh aesthetic, with wood accents adding character and authenticity to a space. Judith Balis breaks the monotony of all white by including statement wooden bottom cupboards with a rustic appeal.
Choose wooden floors with the same material as the cupboards or a different wood style altogether. Use golden light fixtures and cabinet hardware as accents.
5. Black + White
The classic pairing of black and white offers a striking, high-contrast aesthetic. These colors serve as a versatile backdrop for various design styles.
Designer Terri Sears chose a minimalist approach, using white for the walls and countertops. She used black on the cabinetry, adding depth without overwhelming the space. A patterned floor softens the contrast between the two colors.
6. Cool Gray + Marble
If you find white too harsh, cool gray offers a softer alternative. Combine crisp whites and blues with cooler grays. For a warmer shade of gray, choose cream or ivory. In this case, Lisa Buxton chooses marble as a focal point to add character and sophistication.
7. Gray + Blush
A gray and blush kitchen is a contemporary yet timeless choice, as seen in this space by Colombo and Serboli Architecture. The color scheme blends a neutral gray backdrop with the soft, warm hues of blush pink.
Fun kitchen design colors like blush and gray create warm and cool contrasts. Use white or metallic accents for a glamorous finish.
8. Navy + White
A navy and white kitchen oozes boldness and formality. Anna Rae achieves this by combining the crispness of white and navy's richness in this modern kitchen. Navy and white are a versatile foundation for various design styles, from traditional to contemporary interiors.
The designer chose gold accents, which offer an elegant contrast. Other accent colors that work well with a navy and white scheme are gray, mint green, yellow, and red.
9. Black + Black
Black on black is bold and daring as far as kitchen color designs go. A black kitchen exudes luxury often associated with modern and minimalist designs.
Instead of plain black, play around with textures like Jado Developments did. The designer uses a glossy finish to glam up this space, complete with a kitchen island. The bright floor and ceiling bring more light into the kitchen, so it appears bigger.
10. Cool Blue + White
Don't pass up a cool blue and white combo when looking for fresh color schemes for a kitchen. Bryant Alsop combines the crisp qualities of white with the calming effect of blue.
The kitchen design features floor-to-ceiling blue cabinetry on one wall and a white kitchen island in the middle. You can play around with varying shades of cool blue, like sky blue, powder blue, and cerulean blue. Use natural wood and blush as accents for added visual interest.
11. Off-White + Neutrals
Off-white and neutral colors are perfect for traditional or farmhouse-inspired kitchen designs. Shirley Meisels captures the warmth and coziness of this neutral kitchen using off-white and cream-beige hues.
The dark wooden floor helps create visual balance while also adding some contrast. Add hanging light fixtures with yellow light for added warmth.
Adblock test (Why?)
Powered by WPeMatico